Market radar will be a new feature I will be bringing to Day Trading Radio. It will consist of a market call on specific days where I see a convergence of important indicators we follow here at DTR. This alert will be released on a need to know basis.  Meaning, if I see a potential for a high probability move up or down or even if we have a very uncertain situation playing out, I will do my best to post the update here. The alert will come in 7 different types outlined below
If you're a follower of Day Trading Radio, you know that I work with a duel stochastic indicator that times the futures with incredible accuracy. I also use a methodology called the HPS or High probability Setups that consist of pattern recognition, Trend lines, Short and longer time frame stochastics. I also take into consideration certain candle sticks combined with volume. All this can be used across different trading vehicles. This signal released will  be based on the S&P 500. 
Here is what you will be seeing..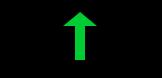 This one up green arrow represents a slight bias to the upside. This represents at least one indicator lining up to the buy side. It's a lower probability set up.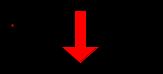 This is just the opposite but a bias to the downside.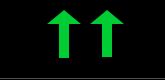 This 2 Up green arrow represents a set up with at least 2 indicators lining up with a buy signal. These signals needed to be weighted with current market sentiment and if there is any positive momentum to the markets to give this a higher probability signal.
NOTE: Momentum plays an important part in markets,  in a trending market we experience consolidation days and short term down moves these signals will only be released under the optimal conditions.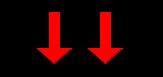 Opposite to the upside signal,but usually momentum and signals confirming a move lower.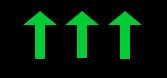 A Three Arrow Up signal will be the strongest signal and this takes into account various conditions which I will detail on the site dedicated to the key to the market radar. But for now, know it represents a multiple indicator set up based on multiple time frames, Pattern Recognition and at least 3 indicators converging in a buy signal.
NOTE: Timing the markets is hard when you try to time a bottom or a top. These periods could play out over multiple days. Momentum in the direction of a trade adds a lot to the signal and will be added to the equation. There will be times when a signal will go out and the markets will go into a consolidation period that could last a couple days as the markets puts in a bottom or a top. That signal will stay active in those periods or if signal changes.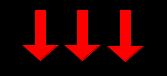 Opposite of the 3 Arrow up signal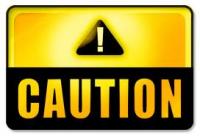 If the market is not trending or uncertain  it's easy to over trade and get chopped up. Discipline in knowing when to protect capital is the most important factor to self preservation in the markets. You don't have to trade every day. Caution is a signal when the markets are unstable and the future is uncertain. This signal appears when there is over hanging news that is disrupting the normal flow and causing the markets to give false signals. Remember, there isn't any wrong signal the markets are always right. But if there is something that is moving the markets out of it's normal boundaries and signals start to fail, then we have to be ultra cautious and cut back on both trading and size. I am a big proponent of trading small. In this current environment, I like to test the waters with smaller entries and when the market gets back into a "rhythm" then its time to make the money.
Look for the first installment of Market Radar coming up.
DayTraderRockStar