Hiring was lukewarm last month, with employers adding jobs but not enough to bring the unemployment rate down.
The economy added 80,000 jobs in June, the Labor Department reported Friday, barely an improvement from the 77,000 jobs added in May. The unemployment rate remained at 8.2%.
Economists surveyed by CNNMoney had expected to see employers add 95,000 jobs and the unemployment rate to remain unchanged.
The labor market has been volatile this year, with job growth starting off strong in the first couple months of 2012. Then a disappointing slowdown in the spring led many to wonder whether the recovery was taking a turn for the worse.
June's weak growth added to those fears. The economy needs at least 125,000 jobs added each month just to keep up with population growth.
"Today's report is the rotten cherry atop the half-baked economic news of the last few months," Chris Jones, economist with TD Bank said in a note.
Revisions from previous months also showed the economy gained 1,000 fewer jobs in April and May than originally thought.
Among the sectors adding jobs, manufacturers hired 14,000 workers, professional and business services added 47,000 jobs, and food services added 15,100 jobs.
Meanwhile, retailers slashed 5,400 jobs and the government cut 4,000 jobs.
Overall, the job market has a long way to go to climb out of the deep hole left by the financial crisis. Of the 8.8 million jobs lost, only about 3.8 million have been added back.
Roughly 12.7 million Americans remain unemployed, and 41.9% of them have been so for six months or more.
Another 88 million out-of-work people were not even counted as unemployed, because they didn't look for a job in the last four weeks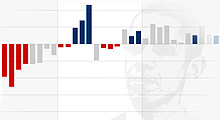 The U.S. lost 4.3 million jobs in President Obama's first 13 months in office. Track his progress since then.